Parramatta River Masterplan

We were thrilled to launch the Parramatta River Masterplan for public exhibition on Thursday, 18 October 2018.
As part of the Masterplan, three new swimming locations at Putney Park, McIlwaine Park in Rhodes East and Bayview Park in Concord will be opened by 2025, joining current swimming sites at Cabarita Park beach, Chiswick Baths, Dawn Fraser Baths and Lake Parramatta.
The Masterplan was launched in the presence of our many partners and community representatives who have been central to the development of this plan. The Parramatta River was also thrown into the spotlight as a world-class river when we welcomed national and international delegates from the 21st International Riversymposium, which was held in Sydney for the first time, as part of the launch.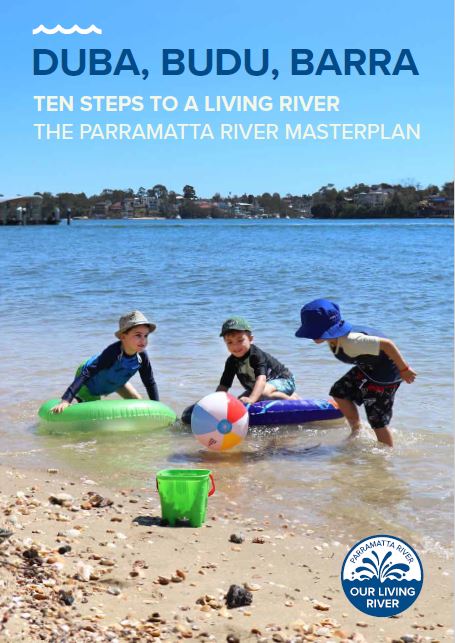 Three new swim sites by 2025
By 2025, our local communities will be able to enjoy a swim or a splash at three new swimming sites along the Parramatta River:

Bayview Park, Concord
Bayview Park is bordered by the Hen and Chicken Bay Foreshore Walk, which offers stunning views of the Parramatta River. There is ample tree shade, covered picnic tables, barbecues and toilets, as well as a beautiful, sandy beach where children can play in the sand and explore the rock pools at low tide. Plans are now underway to allow natural river swimming with the addition of a new netted swimming area, shower and public water quality reporting.

McIlwaine Park, Rhodes East
McIlwaine Park is located in Rhodes and looks out onto Brays Bay. The park is a very popular recreational spot with picnic tables, barbecues, toilets, play equipment and parking. Kayaking, canoeing, paddle boarding and other water-based activities will also soon become a common sight on Brays Bay under plans to activate the riverfront area through upgrades to the adjacent foreshore and construction of a new jetty.
Putney Park, Putney
Putney Park is a large, regional park that features playgrounds for older and younger children, splash pools, a huge slide, extensive grass and natural areas, barbecue and picnic facilities and ample parking. It links to the Ryde River Walk and is a popular place for events. As part of the plan, the existing seawall will be upgraded, providing a series of sandstone steps down to the shore and the river, with activation towards natural swimming to follow.