Educational resources
The Our Living River project provides schools and tertiary institutions with a wide range of opportunities to connect with the Parramatta River and local environment.
School students can explore different aspects of the river through Art, English, History, Maths, Physical Education and Science. They can initiate their own projects and events or take part in existing ones.
Tertiary students can apply to undertake research projects on various aspects of waterway health and management, biodiversity and ecology, and sustainability practices through their universities.
All students are eligible to join the Riverkeeper Network.
---
School students
For Students
Are you working on a school project or just want to find out more about how we're making the Parramatta River swimmable again? Click on the links below to find the information you're looking for:
The Parramatta River Catchment Group
Our plan to make the Parramatta River swimmable again
History of the Parramatta River
Other living rivers around the world
For Educators
School talks
We can arrange for one of the Our Living River team members or Riverkeepers to come and speak to students at a school assembly or class groups.
Printed resources
We can also provide schools with a select range of printable resources:
Riverkeeper's invitation to join the Riverkeeper Network
Riverkeeper certificates for students
Design files for:

Trading Cards featuring some of the animal and plant species found in the Parramatta River catchment (used in conjunction with the ecosystem habitat map)
PRCG Animal Mascot Postcards that represent the Parramatta River's ecology.
Education kits
Suggested books
The Godwits by Bruce Pickworth
Flappy the Bat – Blacktown Council
Contact us to find out how your school can get involved with the Our Living River project.
School Projects
PLC Sydney
PLC Sydney has joined the Riverkeeper Network as an Ambassador for one of our five animal mascots, the Eastern Long-necked Turtle. We're excited to be working with the college's science department to develop various student projects based around river health and awareness.
Science teachers, Dr Maria Luisa Gutierrez and Mr Richard Lawton-Wade, along with STEM Captain, Roisin Bryce-Stark, and senior student Eleanor Clifton-Bligh, attended the launch of the Parramatta River Masterplan in October 2018.
Check out the video of STEM Captain, Roisin Bryce-Stark, talking about PLC Sydney's involvement in the Our Living River project.
Hannah Chalmers
Budding eco warrior and Year 4 student Hannah Chalmers is our youngest Riverkeeper Ambassador. Hannah came to  our attention when she won equal first place in the Young Scientist Awards for her Green Elephant app that reminds people to bring along their reusable bags when they go shopping.
In early 2020, Hannah and PLC Sydney's Junior School Coordinator of Science, Annie Martin, met with City of Canada Bay's Mayor, Angelo Tsirekas, online where Hannah presented her video 'Down the Drain', which looks at the impact of litter that ends up in our waterways, and the benefits of naturalising stormwater channels.
The Mayor was impressed with Hannah's infectious enthusiasm for improving water quality and other environmental issues and invited her to attend a future PRCG full group meeting where she could share her ideas with other councils.
Watch Hannah's video 'Down the Drain'.
St Oliver's Primary School, Harris Park 
In March 2018, our Riverkeeper Jacinta invited students in years 5 and 6 at St Oliver's Primary School in Harris Park to become Riverkeepers. The students took part in a guided cycling tour of the Parramatta River by one of our Riverkeeper Ambassdors, Charlene Bordley from Addventageous. They then researched and developed their plans on ways to make the Parramatta River swimmable again by 2025, which they presented to the school community and members of the Our Living River team.
The project is a wonderful example of ways in which students can engage with their local waterways and surrounding environment and consider ideas for future sustainability.
Watch a video on the St Oliver's Riverkeeper project.
Tertiary students
We have a range of research and supporting documents available for students to download:
Our Living Catchment Native Habitats & Fauna Report
Parramatta River Estuary Coastal Zone Management Plan
Parramatta River Estuary Processes Study AECOM Erosion
PRCG Waterway Governance Final Report
Parramatta River Masterplan – Background Research
WSU Student Presentations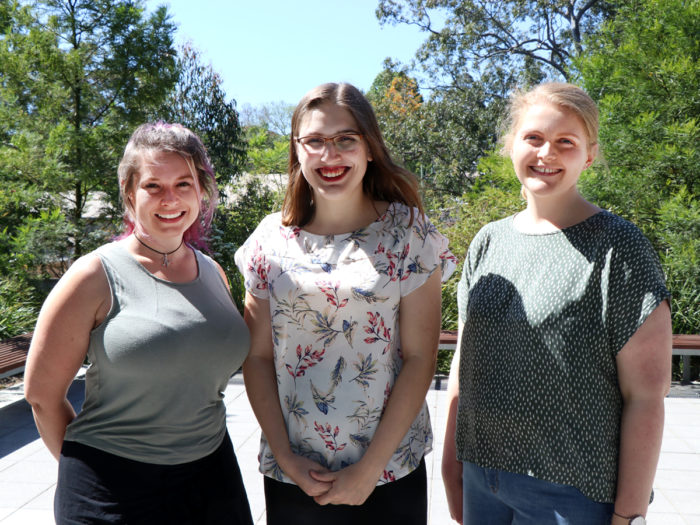 In 2018 three Natural Science students at Western Sydney University presented their findings on studies conducted of different aspects of waterway health in the Parramatta River, as part of a research project undertaken on behalf of the PRCG for their final year of study.
The students focused their study on a section of Bellbird Creek that runs along the northern end of George Thornton Reserve in West Pennant Hills.
The relationship between pet waste and river quality
Jessica Jones studied the relationship of pet waste with the health of the reserve, monitoring the effect of rain on the breakdown rate and dispersion of specific samples. She demonstrated that pet waste remains in the environment for a very long time and rainfall has an immediate effect on the breakdown and dispersal of faeces and associated bacteria. She also observed the correlation between the location of pet waste bins and bags and number of dog droppings and recommended the installation of more bins for pet waste disposal throughout the reserve to reduce pollution.
Recreational potential of a small creek
Cerys Akam studied the recreational potential of Bellbird Creek, comparing the water quality to legislative guidelines. Samples were measured across four sites over four days, and results indicated that the creek is currently not a viable site to prioritise for swim activation as bacterial readings were above recommended guidelines. Given the prevalence of rocks and concrete along the creek foreshore, Cerys recommended the planting of more aquatic tolerant plants to improve water quality.
Microplastics in a freshwater creek
Nicole Rigas assessed the presence or absence of micro plastic particles in a freshwater creek. She observed that the main type of litter present in the reserve included plastic, glass and cigarette butts that were found closer to the sporting field at the southern end of the reserve. Results of water and sediment sampling revealed bags containing pet waste, bottle caps, small polystyrene beads and a significant amount of small glass particles. Nicole recommended that Bellbird Creek was currently not suitable for water-related recreational activities and that the placement of more bins for rubbish and pet waste throughout the reserve would likely help reduce pollution.
Congratulations to all the students on their well-researched, articulate and confident presentations. We are very fortunate to have worked with such capable and enthusiastic students who are already making a meaningful contribution to the conservation of the Parramatta River and surrounding environment. We wish them well in their future scientific careers.