News
Monday 5th November 2018
21st International Riversymposium
More than 500 delegates from Australia and around the world descended on Doltone House in Sydney's CBD for this year's International Riversymposium. The four-day conference covered a wide range of topics on river health and management.
PRCG presentations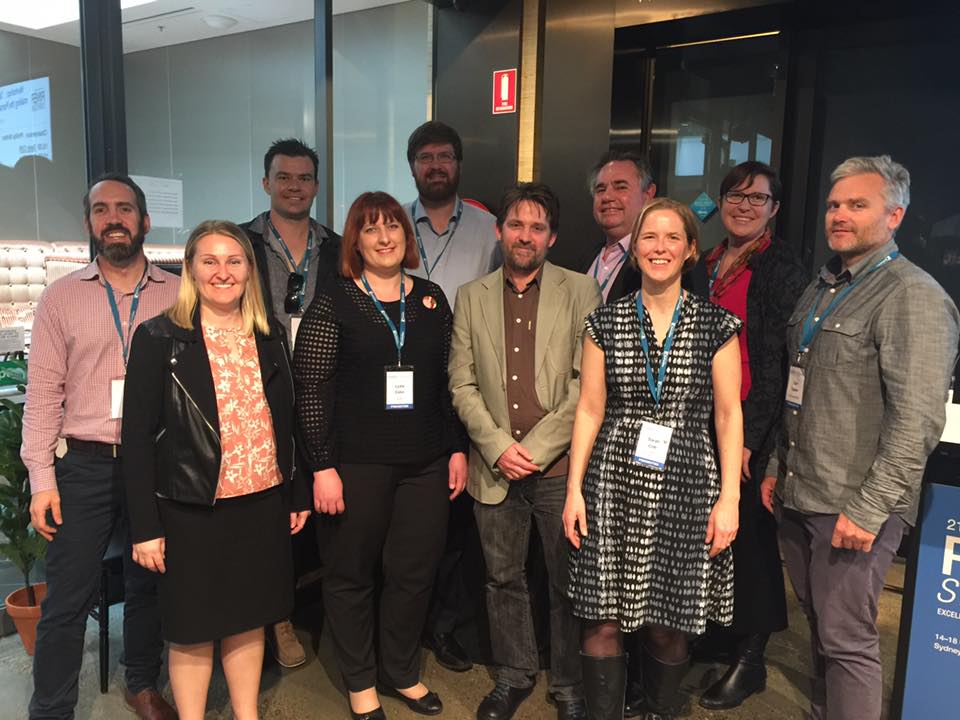 PRCG Coordinator, Sarah Holland Clift, gave a presentation on the development of the Parramatta River Masterplan at the Riverprize Finalists session. The PRCG also held a more detailed 90-minute 'Learn Inspire Transform' session on: 'Taking the urban river plunge – how we are making the Parramatta River swimmable again'. Key aspects of the Masterplan were covered, including an introduction on Aboriginal Leadership of the Parramatta River from Ben Bowen from Share Path Aboriginal and Torres Strait Islander Corporation, a project overview by Sarah Holland Clift, a snapshot of our ecological health project and mascots by Carl Tippler of CT Environmental, an overview of the EPA's involvement in the mission by Giselle Howard of the NSW EPA and more detailed presentations on:
'Informing targets for making Parramatta River swimmable: an integrated catchment-river modelling approach' – Jonathon Dixon, Sydney Water and Lydia Cetin, Jacobs Consulting
'Can I swim here? An activation framework to bring back swimming to Parramatta River' – David Knights, McGregor Coxall.
'What makes river swimming desirable? Involving community in swim site selection' – Anne-Marie Mitchell on behalf of Rachel Fox, RPS Group.
The presentations were followed by a lively and informative panel discussion where delegates asked a wide range of questions on the development of the Masterplan. A big thank you to all of the presenters for giving their time to speak at the Riversymposium.
Thiess Australasian Riverprize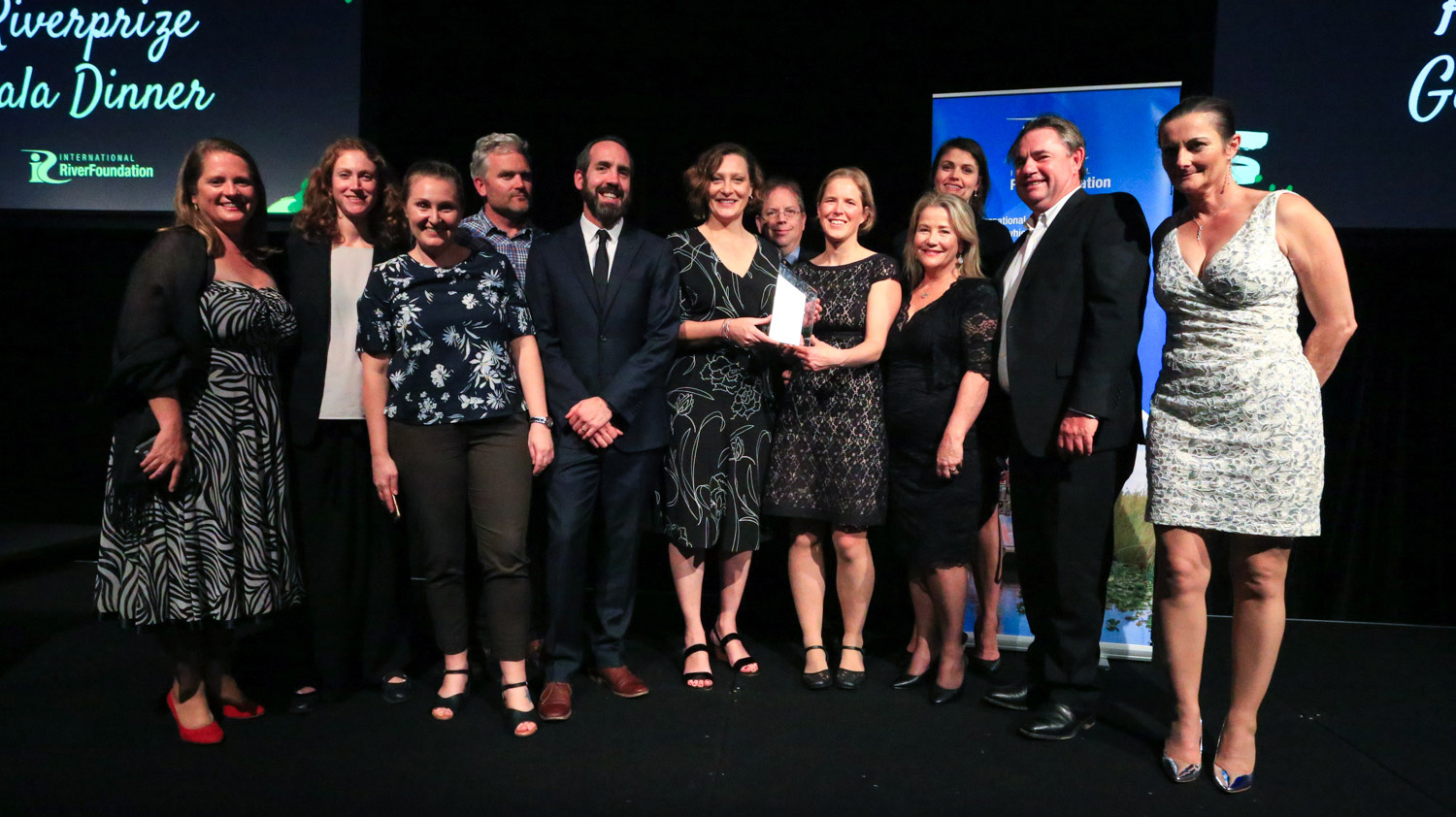 After a busy few months, the PRCG team got the chance to unwind and celebrate our efforts at the Riverprize Gala dinner. We were thrilled to be a finalist in this year's Thiess Australasian Riverprize and narrowly missed out to the equally worthy (and lively!) Whangawehi Catchment Management Group (WCMC) from New Zealand, who took out this year's prize. A heartfelt thanks goes to all our member agencies for their support in enabling us to be selected as a Riverprize finalist.
Watch the Parramatta River Masterplan video that was shown at the Riverprize Awards.
Riverexpo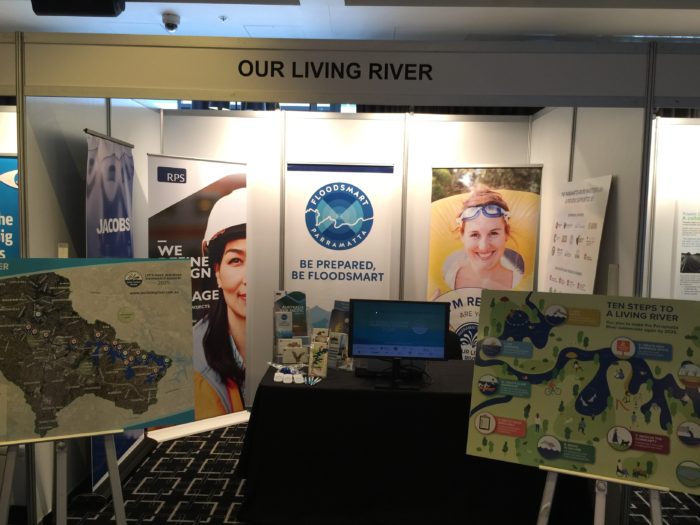 For the first time the PRCG participated in the Riverexpo that offered a wonderful opportunity to engage with river experts from all over the world and showcase our Parramatta River Masterplan in the lead up to the launch. The stand was decked out with colourful infographics and entertaining videos of past campaigns and events. Representatives from several of our member agencies came along to help out on the stand, including City of Parramatta who brought along their very popular FloodSmart virtual reality tool.
Parramatta River Study Tour
The Riversymposium concluded with three study tours, including one of the Parramatta River. The full-day tour began with the Parramatta River Masterplan launch at Rhodes where more than 30 delegates were able to see the unveiling of the three new swim sites on the river. The tour continued on to historic Parramatta Park to visit Little Coogee, followed by a relaxing lunch at Lake Parramatta. Delegates then made their way to the Murama Indigenous Cultural Centre in Sydney Olympic Park where they participated in a traditional smoking ceremony and water blessing, created art pieces of our five ecological health mascots and learned more about local Aboriginal connections with the river and the development of the nationally significant Olympic Park wetlands. The tour concluded with a visit to Sydney Water's award-winning Powells Creek naturalisation project. It was a great opportunity to showcase some of the wonderful ecological, historical and cultural aspects of the Parramatta River.
Watch a highlights video of the Study Tour.
Thank you
We would like to say a big thank you to City of Parramatta, McGregor Coxall, Jacobs Consulting and RPS Group for co-sponsoring our Learn Inspire Transform session, Riverexpo stand and Study Tour.