10. Create clear leadership
Overview
A big project needs clear leadership. The plan to make the river swimmable again was sponsored by 11 councils and three state government agencies. It also draws on Aboriginal knowledge and culture and collaboration with the community to bring a big mix of experience and opinions to the table. Sydney Water has been identified as the best placed body to lead this coalition via a collaborative governance structure that sets and delivers on clear targets.
We all need to work together to deliver the outcomes in the Masterplan. A collaborative framework, depicted in the diagram below, provides clarity on the roles of each stakeholder.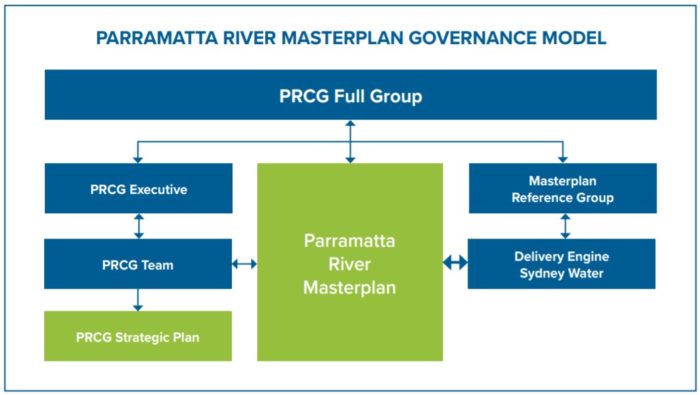 The Sydney Water Delivery Engine team work in collaboration with the Parramatta River Catchment Group (PRCG) team. The Delivery Engine takes guidance from the Masterplan Reference Group made up of senior agency executives. The PRCG is guided by the PRCG Executive.
The PRCG Full Group is the ultimate decision maker for all activities. The group consists of both officer level and executive staff representing councils, NSW government agencies and community groups. Financial members have one vote per organisation. The Full Group meets quarterly.
In some cases, smaller subcommittees or working groups have been established to deliver on specific Masterplan actions, particularly where a range of technical staff is required to work together to deliver projects.
The PRCG plays an important role in coordination and facilitating joint decision making through collaboration, planning and research, advocacy, monitoring and evaluation and communication and engagement.
Recommendation
Establish a more effective whole-of-government approach to the governance of the Parramatta River Masterplan, led by Sydney Water as the lead coordinating agency.
Engage with Aboriginal leaders across the catchment to support the implementation of Aboriginal values, protection of cultural heritage and preservation of cultural development, respecting Aboriginal knowledge of biodiversity and river management and ensuring their direct involvement in the planning, design and implementation of actions within the Masterplan.
Timeframe
Now.
Lead Agency
Parramatta River Catchment Group.
Current Measure
Number of financial PRCG members
New Memorandum of Understanding developed and in place
Total number of associate members
Number of Full Group meetings held and attendance by members.
Status Update
Continually monitor and reflect on whole-of-government collaborative approach to PRCG coordination and Parramatta River Masterplan implementation with Sydney Water as lead agency to ensure Masterplan objectives are met.
Implement recommendations from Parramatta River Aboriginal Leadership: Community Engagement Report prepared by Shared Path Aboriginal and Torres Strait Islander Corporation.

Meet with local Aboriginal and Torres Strait Islander stakeholders and organisations to develop guiding principles for future engagement.
Further investigate and engage with local Aboriginal communities on the current proposed swimming areas, including a walk through of sites with proposed infrastructure (parking, access, toilets and showers and swimming structures) and gaining feedback into the designs and protective infrastructure.
Identify opportunities to incorporate Aboriginal names for locations, projects and policies to strengthen and promote Aboriginal representation and priorities in Parramatta River Masterplan implementation.
Continue to collaborate with the Murama Healing Space at Sydney Olympic Park and develop more Aboriginal and Torres Strait Islander community relationships to investigate Indigenous procurement and business opportunities based along the Parramatta River and at proposed site locations to develop greater depth of Aboriginal representation in the Our Living River Project.
Activate citizen science programs within the Aboriginal community to gather data to implement, measure and report on Aboriginal practices, priorities and perspectives.
Progress Timeline
July – October 2021
The Parramatta River Reference Group met in September with a focus on the pilot of the Blue Green Index Tools in Camellia.
A paper was submitted for the OzWater'22 Conference on the importance of recreation in urban waterways during COVID.
The Designing with Country project has engaged consultancy group, Yerrabingin to develop an Aboriginal Design Framework that will assist with future interpretive design projects across the catchment.
April – June 2021
The Parramatta River Reference Group met on 20 April with a focus on engaging with the development industry.
The Metro Greenspace grant application for the Designing with Country project was successful. Work has commenced on the research document and Request for Quotation to engage an Aboriginal and Torres Strait Islander design consultant who will advise on the project and prepare the Aboriginal Design Framework.
The NSW EPA Litter Prevention grant application was successful and a project officer appointed.
January – March 2021
The Parramatta River Reference Group met on 15 December, to discuss the Masterplan.
The Metro Greenspace Aboriginal engagement grant Designing with Country was submitted and we are waiting to be notified of its approval.
October – December 2020
Followed up on Transport for NSW letter of invitation to join PRCG, which they are progressing with their executive.
Three groups of Masters students from Macquarie University were mentored by Paul Hackney, Nell Graham and Nerida Taylor.
The Metro Greenspace Aboriginal engagement grant was submitted and waiting to be notified of its approval.
July – September 2020
Presented to the Parramatta Aboriginal Advisory Committee
An application to the Metro Greenspace grant program is being drafted to develop a whole of catchment approach to Aboriginal engagement, storytelling and design, with locally identified outputs.
April – June 2020
Transport for NSW sent a letter of invitation to join PRCG.
Requests made to present at Inner West, Cumberland & Parramatta Aboriginal Advisory Committees.
January – March 2020
Two tours of current and planned swim sites on Parramatta River held by Sydney Water for key government agencies.
Continued development of funding prospectus and costings for actions in the Masterplan.
Attended Murama Healing Space community event on 14 March 2020.
Met with and developed membership proposal for Transport for NSW.
October – December 2019
Commenced development of funding prospectus and costings for actions in the Masterplan.
July – September 2019
New PRCG Coordinator appointed.
Discussions held with DPIE regarding progressing 'Ochre Grid' project for Parramatta River.
April – June 2019
Sydney Water committed funding to support implementation of the Masterplan over the next two years.
Riverwatch Coordinator and Strategic Stormwater Planner recruited to support Masterplan implementation.
Useful Links