4. Standardise the standards
Overview
The Parramatta River's catchment spans 11 local government areas. To create a swimmable river, we need to work together to standardise policies and practices that impact water quality, such as approaches to baseline measurements, installation of rainwater tanks and creation of raingardens.
This project has identified the appropriate policies, planning instruments and sustainable funding mechanisms that will support the goals of the Parramatta River Masterplan.
Recommendation
Establish a whole of catchment land use policy and statutory planning mechanisms.
Timeframe
By 2021.
Lead Agencies
NSW Department of Planning, Infrastructure & Environment and Sydney Water.
Current Measure
Workplan (2021)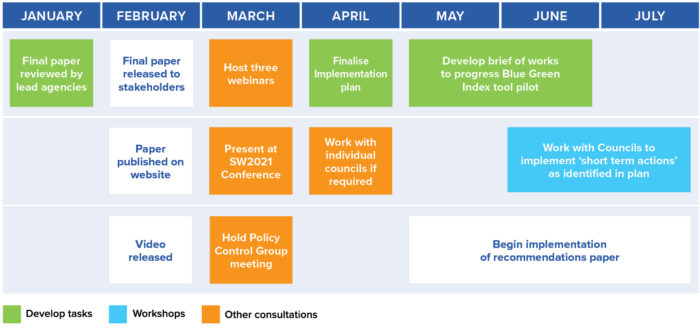 Status Update
We have finalised our recommendations paper, Strategic and Statutory Planning Review to create Our Living River – Final Recommendations Paper, February 2021. The paper sets out recommended planning reforms to achieve clean, clear water and support and encourage healthy ecosystems in the catchment.
The paper has been developed in collaboration with council and state government stakeholders. Specifically, the paper provides recommendations for the following elements of the local and state government planning framework:
Consistent wording in Local Strategic Planning Statements, Local Environmental Plans and Development Control Plans, across the Parramatta catchment, in support of improved waterway and catchment outcomes.
The development of a 'blue-green index' tool to facilitate easy assessment of new developments to meet water quality, waterway and riparian land objectives.
The development of a blue-green riparian mapping system to be applied across the catchment that sets objectives for waterway management.
Influencing and advocating for reform of state level planning policies including BASIX, infrastructure assessments and State Environmental Planning Policies.
Strengthening funding of blue-green infrastructure.
Video
To get an overview of this planning reform work, please watch this short video.
Standardise the Standards – Final Recommendations Paper
Download the full Final Recommendations Paper
Executive Summary
Download the Recommendations Paper Executive Summary
Final Recommendations Paper Webinar Series
The consultancy team from Civille and Macquarie University will be holding a series of short webinars in order to share the key recommendations in the recently released paper for Step 4: Strategic and Statutory Planning Review to Create Our Living River and get attendees thinking about how we move the recommendations into implementation. To find out more about the webinars, click here.
Progress Timeline
June – October 2021
Initiated a pilot of the Blue Green Index Tool in the Camellia-Rosehill precinct.
Continued discussion with DPIE, GSC and City of Parramatta to progress pilot.
Looking for alternate sites to trial tool.
Continued work to influence state level SEPPs and strategies under development.
Submitted an application for the 2021 Stormwater NSW Excellence Awards in Policy for the Final Recommendations Paper, Strategic and Statutory Planning review to create our living river.
April – June 2021
Webinars were held in March and posted online.
The Stormwater Australia National Conference included an item on the Blue Green Index Tool.
Submitted a response to Department of Planning, Industry and Environment (DPIE) on the Explanation of Intended Effect (EIE) for the Design and Place State Environmental Planning Policy (SEPP).
Continuing discussion with Government Architects and DPIE regarding the Blue Green Index Tool.
Have invited members to join two working groups to progress the Blue Green Index Tool and Blue Green Grid Frameworks.
Developed material to explain Blue Green Index for senior government ministers.
January – March 2021
October – December 2020
Final draft of Planning Reforms to Create Our Living River received.
Implementation plan and a paper on funding opportunities developed to support this work.
Four technical submissions provided on behalf of PRCG.
Met with eight DPIE teams and Government Architect NSW regarding the recommendations paper and opportunities to influence current policy reform.
July – September 2020
Draft C of Standardise the Standards recommendations paper distributed to all member councils, council general managers, and member agencies for comment in June/July. More than 250 comments received. Paper is being updated and finalised.
Extensive consultation has been undertaken with groups within DPIE to integrate our recommendations into policy.
The Delivery Engine was invited to be a member of the Sydney Harbour Coastal Management Program.
April – June 2020
Options Paper finalised incorporating feedback.
Draft A of recommendations paper received from consultant in April. Draft B is in circulation with Policy Control Group for feedback prior to finalisation in mid-June.
Two Masters students from Macquarie University completing a riparian mapping project to support recommendations paper.
January – March 2020
Discussion Paper finalised. We received a number of submissions and feedback was incorporated.
Draft options paper developed that sets out other parts of NSW planning framework and how to influence them, such as strategies, SEPPs, VPAs and ministerial directives.
Initial meeting held with new DPIE contacts.
October –December 2019
Draft discussion paper developed.
Workshops held with catchment councils, GSC, DPIE, PRCG and Sydney Water to focus on developing planning controls for waterways and riparian habitats and for WSUD.
July – September 2019
Knights McAuley appointed to lead review of catchment policy and planning controls that impact water quality.
Workshop held with catchment councils, GSC, DPIE, PRCG and Sydney Water to develop practical recommendations to support councils' current review of their Local Environment Plans (LEPs) and align with the vision of the Parramatta River Masterplan.
April – June 2019
Standard wording developed for councils to include in their Local Strategic Planning Statements (LSPS) that support implementation of the Parramatta River Masterplan.
Consultants brief drafted to review planning provisions and provide model clauses that support implementation of the Parramatta River Masterplan.
Useful Links